Yes, if One Click LCA Planetary has a partner in your country (see partners
here
) you can use it. One Click LCA commercial versions remain the most advanced building LCA software on the market, and we have a multi-million-euro investment program to expand this leadership. The commercial versions continue to be the only ones supporting regulatory or certification compliance, working with ancillary building materials, such as building systems, BIM integration or advanced ecodesign. One Click LCA add-on modules such as Carbon Designer are reserved for commercial users as well.
If you want to try out One Click LCA Planetary, please follow these steps:
Step 1: Add a Building project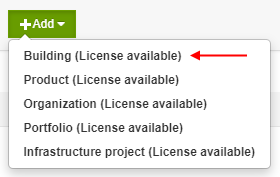 Step 2: Fill in the requested information as below
Step 3: Leave the License field blank and click "Save"
Step 4: Choose One Click LCA Planetary, and get started with your calculations