Creating a company account
It is necessary to have a company account if you want to
Request EPDs from manufacturers
, as well as to collaborate with your colleagues on a project. It's very easy to do and only takes a few clicks, as detailed in the steps below.
Step 1: Create a company account from your user settings
Click on your username in the top right corner and select 'Create or join a company account'. This will open the Company Account creation page.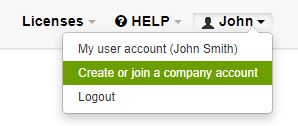 Step 2: Fill in the mandatory details and press 'Save'
It is not required to fill in your VAT number unless you want to use the online store.
Adding users to a company account
Now that your company account is set up, the main user can edit and manage the users in the organisation.
Step 1: Navigate to the 'Company account' page
Click on your username and select 'Company account'.
Step 2: Add 'Users' or 'Main users'
In your company account under Licenses and Users, you can add colleagues as 'Users' or 'Main users'. There can be more than one Main user. If you are not the main user of your company account, you can request to be added as one by any other main user.
If there are any requests from users to be added to your company account, they will be visible here as well. You can also remove users if necessary.