This feature is only available to Expert license users and clients who can create 'Organization' projects.
What does this feature do?
Portfolios are used to compare/benchmark your own projects against each other.
How do you use this feature?
A new portfolio can be started by clicking on the 'Add' button and choosing a 'portfolio' project.

The Portfolio basic functionality for user management, task, note and attachment management is similar to other projects. The Portfolio name can be edited in the same way as for any other project type. This guideline deals with how to edit portfolio content – via the Modify Portfolio screen. The basic functionality is the same as for other project types.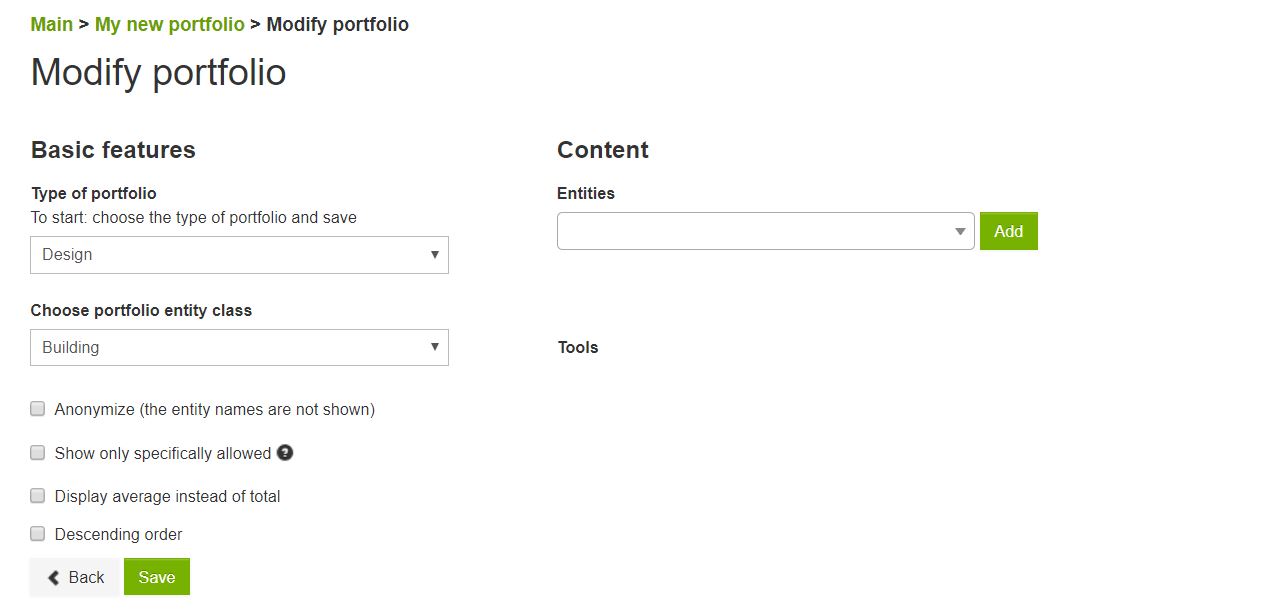 Types of portfolios
Design portfolios
represent alternative designs or sequential snapshots of a project (for example, reference calculation and final as-built results). These are typically used for building or infrastructure works to track completion vs. projected results.
Operating portfolios represent the continuous, annual operating performance of represented assets, which can be for example construction works or organisations (or parts thereof).

One portfolio can only have one (1) project type. Buildings and infrastructure works cannot be in the same portfolio in any circumstances.

Portfolio main settings
Setting

Impact

Portfolio operating periods (operating portfolios only)

Portfolio will only show the chosen periods. This allows having for example 10 years of history but only showing the latest five.

Anonymize (the project names are not shown)

All entities except ones which the viewer has themselves right to, will be shown without a name as incrementing number (Project 1, Design 1, etc). Only non-identifying information is shown. In anonymous mode, the project surface is rounded to prevent results confidentiality.

Show only specifically allowed (design portfolios only)

If this is not chosen, shows all designs from chosen projects. If chosen, shows only the ones where "Show in portfolios" has been set.

In operating portfolios, the design that has no "period qualifier" after the year is shown in the portfolios. Others can be named for example "2013 – if alternative grid mix", and will not be shown in the portfolio.

Display average instead of total

If this is not chosen, the portfolio shows the total of all results at bottom of the list. If this is chosen, the result is an arithmetic average of all results of the list.

Descending order (operating portfolios only)

If this is chosen, the portfolio results will be ordered from largest to smallest (so in descending order)

Entities

List of entities that the portfolio contains. Choose all items you wish to show in the portfolio from this list. You can only add entities for which you are an authorized user!

Tools

List of calculation tools which are shown in the portfolio. This allows you to create a portfolio showing only a single aspect of your portfolio as opposed to all
How to add projects created on a different license to your portfolio?
In some cases, external consultants (other users) may do projects for you on their own One Click LCA license. You can add these externally done projects in an easy manner to your portfolio.
The other One Click LCA user has to add your user account with read-only access to their project. Once you have read-only access to the specified project you will be able to find this project as selectable in your portfolio. There is only one requirement, the project and your portfolio need to have the same tools selected.