What does this feature do?
The LCA checker is a useful feature which checks the completeness and plausibility of your LCA data. It checks the entered data against the set building area, the set project type and the selected type of frame. It gives you an idea of what how complete your LCA project data is, and in which areas you might have to do some additional research.
How do you use this feature?
First, navigate to the results page of your building project. In the results page you, just above the LCA results you will be able to maximize a section called 'Completeness and plausibility checker'. There you will be able to select 'click here for details'. The tool will give your design an overall grade, based on how complete the data is against the set bench-marking data. The results are always an indicator of the plausibility, and exceptions might occur. You can choose yourself to validate the checks if the invalidated checks seem to still yield reasonable values.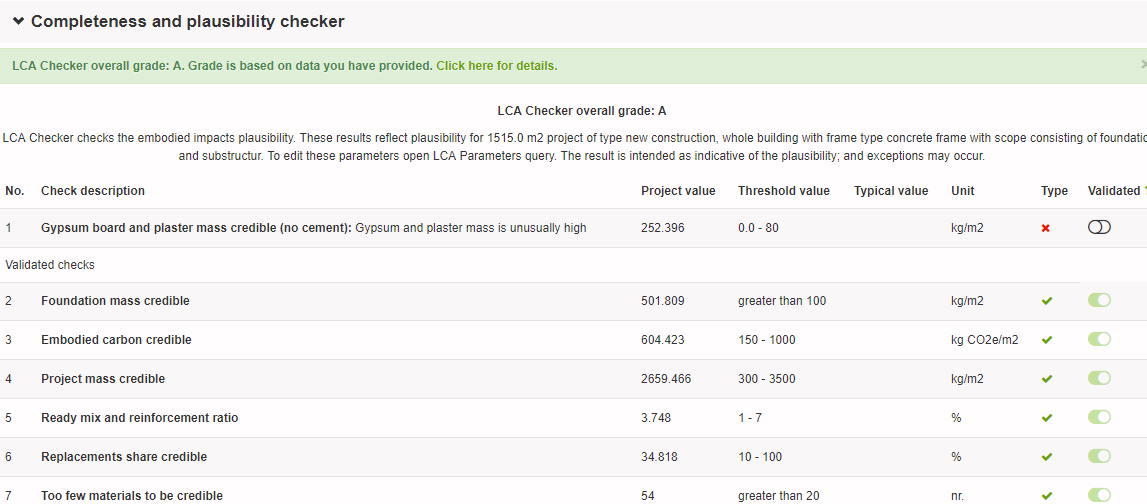 LCA Checker
The results provided are most relevant for new construction projects. You are free to perform any other type of LCA assessment, however if you were to do refurbishment or fit-out projects where parts of the existing structure are re-used, it will still compare your plausibility results with the existing benchmark groups. This means that if you e.g. have no foundation because this is re-used, it will flag it as a potential error. Potential warnings or errors of which you know they are actually correct, can be marked as 'validated' manually.