Enhanced account security
Two-factor authentication has been introduced to enhance account security. Two-factor authentication will prevent illegitimate access to your data. It is implemented with one-time generated passwords that are sent to the user's email in connection with login. Two-factor authentication will be requested periodically, or when a login attempt is suspicious.
Dealing with Two-Factor authentication
Periodically you will have to fill in a one-time generated password under this system. This password is referred to as an 'authentication token'. It will be sent to the email address you have used to register your One Click LCA account. Please make sure to also check your SPAM folder for this authentication token.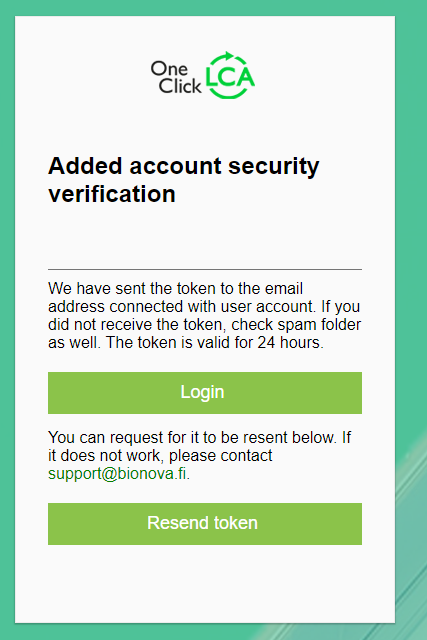 Please enter the received authentication token and click 'login'.
If you do not receive a token, please click on 'resend token' and the system will send the token again.
Please remember to check your SPAM folder.
Example of the received email
The email you will receive looks like the email below.

Please note: The email below is an example and the shown authentication token will not work for you.

Example of the authentication token email.
If the security token has been sent to an email address that you do not have access to anymore, please contact support@oneclick.lca.com